For the movie buff on your vacation list – San Francisco Bay Times
[ad_1]
By Jan Wahl–
2021 may have been a tough year in many ways, but it's been a great one for books about movies and movie stars. From flattering gossip to movie history to colorful biographies, options abound right now, so head to your favorite independent bookstore and immerse yourself in the fun of cinema.
Fresh off the press, film critic and historian Leonard Maltin is a blast. It is appropriately titled Star Struck: My Improbable Road to Hollywood. Of course, many know him from TV (Entertainment tonight, Oscars Special) and his many previous books, but this one is especially fun as we travel with avid movie buff Maltin through anecdotes with huge stars. He has a weird feud with Burt Reynolds, watches a room full of women melt for George Clooney, immerses us in the families of Disney and John Wayne, enjoys a ride with Roy Rogers and Dale Evans, and even more bumpy with Bette Davis and Olivia de Havilland, Barbara Stanwyk and Frank Capra. As a true jazz fan, Leonard passes by Lena Horne, Charlie Parker and Los Angeles when jazz clubs were everywhere. Jazz and Hollywood classic… I'm with you, Leonard!
The other day I spoke with Leonard, just when I needed him! I was sad about a talk I gave the day before. It was very successful (she said modestly), but so many young people had no idea of ​​greats like Bette Davis, Fred and Ginger, and even Funny girl. Leonardo was heartwarming. "Jan, when I was hired by Entertainment tonight in the 80s I saw a bunch of really terrible, boring, or mediocre movies at best. Then I watched a great classic movie, and it was okay. Society is changing; the benchmarks change. I always think of my daughter when she was very young. We had set up the barn dance scene from Seven wives for seven brothers. She would see him and shout, "Again! After hundreds of views of this great footage, she wanted the entire movie. Then Calamity Jane and The pajama game. It's a trip to great movies. From one to the other.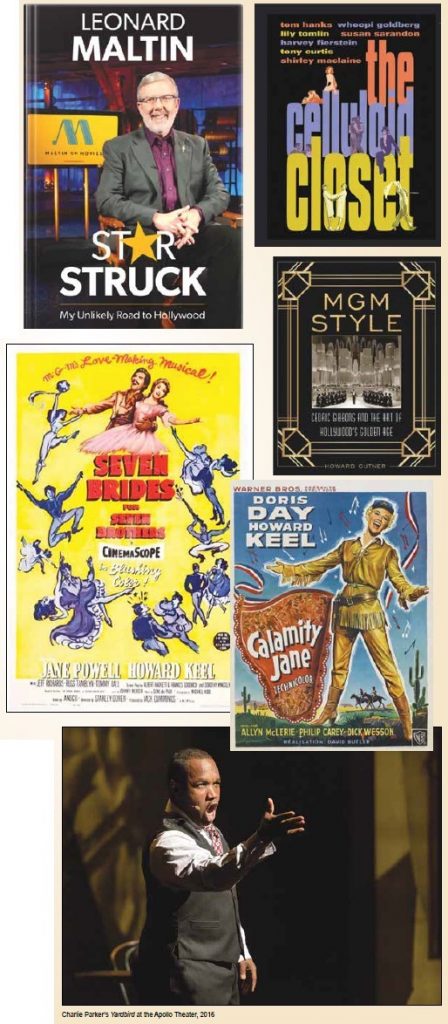 He continued, "The generation has now been brought up in shows like America has talent and American Idol, where everyone wants you to see how hard they work. When I showed my class of 300 students usually the number "Begin the Beguine" (The 1940 Broadway Melody) with Fred Astaire and Eleanor Powell, they thought it was too easy. They thought it was too perfect. All I can do is set the scene and give them some context. Hollywood gave us a fantasy of stars who lit up the screen, larger than life. It is not fashionable now. There are still some good people, of course. But not Cary Grant, Gene Kelly or the others. This will not happen again.
As anyone who knows me or reads this column knows, I'm a huge fan of The celluloid closet (a fascinating guide to Hollywood representations of the LBGTQ community). It turns out that Leonard knew his author Vito Russo when he started out in New York City. "We have traveled in the same circles," he said. "Vito was fun and passionate about the movies and stars that interested him. He was completely genuine. We are further away today than Vito made us aware of. There are less derogatory jokes and more sensitivity with character. I hope this direction will continue.
Glad you were hit by a star, Leonard, and gave us this holiday gift.
Open the piggy bank ($ 45) for the beautiful coffee table book MGM Style: Cedric Gibbons and the Art of Hollywood's Golden Age. Author Howard Gutner previously wrote the definitive book on fashion icon Adrian. This time he delves into the production design that made this studio great. From details such as accessories and furniture to home decor, art deco architecture and landscapes, we see how unlimited budgets and remarkable talent built the movies from scratch.
Can't help but go to the seedy side of Tinseltown with The unlucky ladies of Hollywood: 23 actresses who suffered premature deaths, accidents, missteps, illnesses and tragedies. Laura Wagner introduces us to actresses you might not know, but who found early success before show business or their own issues knocked them down. We are discovering that success can be as difficult as failure. There are life lessons here, but it's also a good ol 'movie dish. The book is sad but gripping, like some of the great movies themselves.
Relax with a good book and celebrate the holidays!
Jan Wahl is a Hollywood historian, film critic in various media and has her own series of YouTube channels, "Jan Wahl Showbiz". She has two Emmy Awards and numerous awards for her long-standing work on behalf of moviegoers and the LGBTQ community. Contact her at www.janwahl.com
Posted on November 18, 2021
[ad_2]